What We're Working on Now
Maricopa County, the United State's fourth largest metropolitan area, is working with Ag Innovations to ensure its residents have access to healthy food and to maintain the limited amount of agriculture that remains in its immediate area.
The Santa Barbara Food Action Plan is the ongoing product of a community coalition of food system and health organizations facilitated by Ag Innovations that lays out the community's strategies and actions that will lead to a better food system for all. Ag Innovations is utilizing its decade-plus experience in other California counties in facilitating and producing such a community road map for food sytstem health.
Since its founding in 2009 the Sonoma County Food System Alliance (SCFSA) has developed a roadmap for how communities can come together to change the dialogue, and the policy, driving food and farming issues.
Taking A More Holistic Approach to Food Hub Feasibility: Measuring The Impact of Value Chain Coordination
In this 3-part series, Ag Innovations is examining food hub feasibility in a non-traditional way. This series weaves together insights from a growing body of food systems research and past experience in food hub development. In our first post, Efficacy of Food Hubs, we agreed on the USDA's current definition of a food hub, then called for practitioners to expand their thinking about how their projects affect other parts of the food system. In our second post, we called on practitioners to build collaborative processes into their planning phases to reduce risk and create thriving partnerships. This final blog in our series shines a spotlight on the importance of value chain coordinators (also known as market facilitators) in food hub development and operation, and illustrates the need to measure the impact of their efforts.
Read More
---
---
---
---
Past Projects
California Food System Alliance Project
The Alliance project has been Ag Innovations' main project since the founding of the original county Alliance in Ventura County in 1999. At one time or another, as many as 12 different counties in California have had a local Alliance organized and facilitated by Ag Innovations.
Making Good Food Work Conference
Michigan State University's Center for Regional Food Systems (CRFS) hired Ag Innovations to design and facilitate their 2011 three-day participatory conference and idea incubation laboratory towards solving food-based challenges faced by underserved communities in the Detroit area.
San Diego Community Food Project
Ag Innovations served as an evaluation consultant for the Community Food Project of the International Rescue Committee in San Diego in 2011-2012, assisting in evaluation efforts and supporting integration of participant feedback.
Results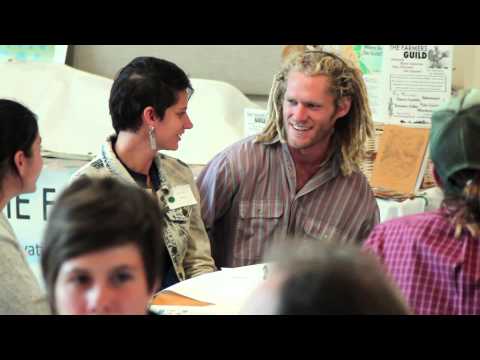 Sonoma County Food System Alliance: Growing Our Farms Forum
Growing Our Farms was a forum to share resources and forge new partnerships between landowners, land seekers, and support organizations working to improve land availability for local food production.
View »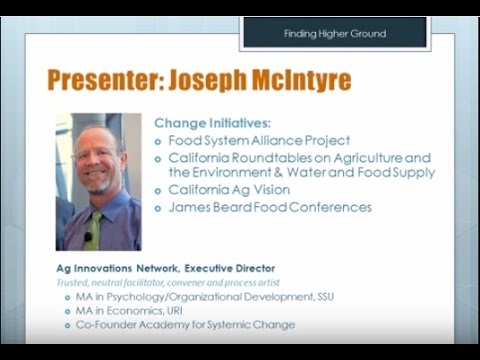 2014 Salon Series: Finding Higher Ground
Joseph McIntyre, President of Ag Innovations, discusses how to move collaborations to action. Part of Ag Innovations' 'Salon Series' targeted to bring resources to leaders and food system advocates.
View »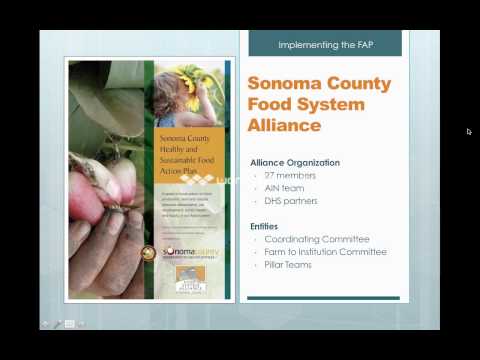 2014 Salon Series: Food Action Plans
Is your community or organization working to create a unified vision for your county's food system? Join Ag Innovations as we divulge the details of our Sonoma County Food Action Plan, a product of the Sonoma County Food System Alliance. The plan is one of few of its kind in the country, providing a roadmap for a more sustainable food system across sectors.
View »